Austin, TX, October 9, 2012 – A new game in development promises to leverage the technology of Google Earth to offer players the largest explorable map in video game history. "Geoception", by Earthling Technology, allows players to command and control UAVs and other combat drones in a realistic manner, anywhere in the world.
Tactical scenarios and missions can be dynamically generated at any location on the globe, providing challenging targets such as armed personnel, moving vehicles, and rooftop sentry guns. Successful completion of missions earns rewards and medals, with the ultimate goal being to establish total global security.
All game actors can be easily replaced with virtually any Sketchup/3D models of the player's choosing, allowing a totally customizable gaming experience. You can replace the drones with dragons, or the soldiers with Smurfs. It's your world, and your game. Craft your own actor models in Sketchup, or choose from a wide selection of free models in 3DWarehouse – even zombies!
And with Google continuously improving the quality of their digital globe behind the scenes, the player is guaranteed an ever-improving game map and environment. This new concept of "reality gaming" – i.e, gaming in a realistic model of the actual world we live in – truly has the potential to revolutionize the way people think of video games.
More information is available at:
ABOUT EARTHLING TECHNOLOGY, LLC
Earthling Technology, LLC is an Austin, Texas-based software development company specializing in original video games. Their first release is Geoception, a novel Google Earth-based game in development that allows the player to command and control combat drones anywhere in the world.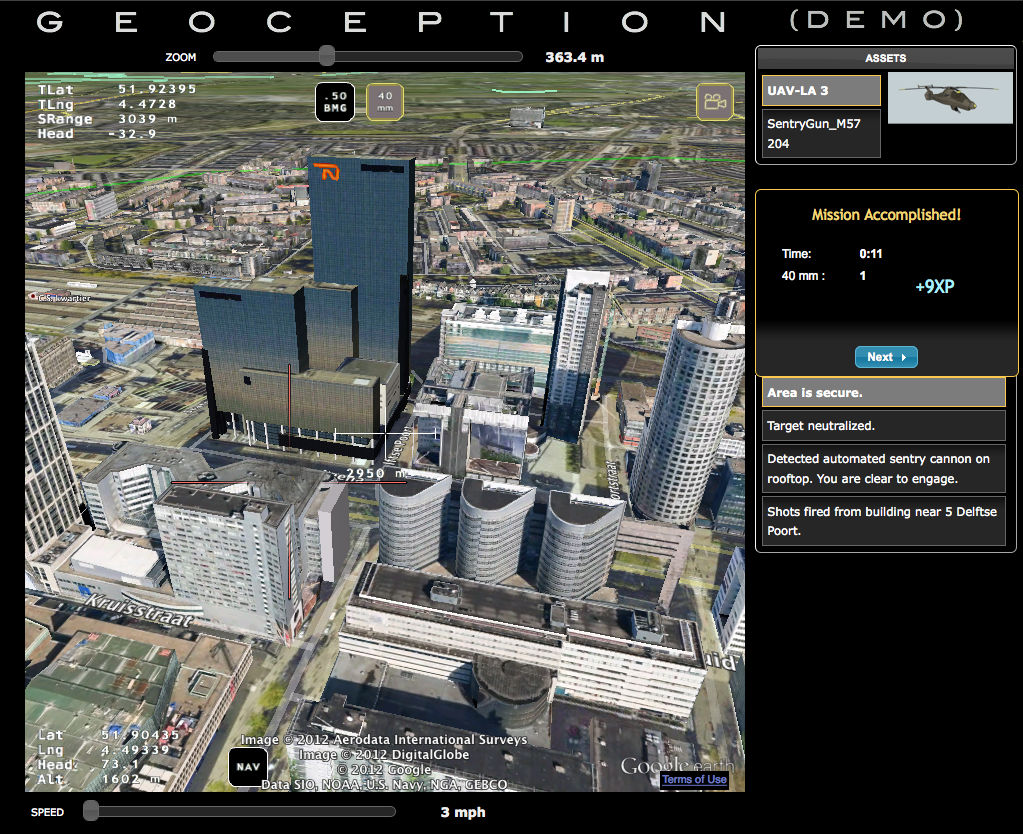 GEOCEPTION: NEW VIDEO GAME AIMS TO CREATE REALISTIC COMBAT DRONE SIMULATOR USING GOOGLE EARTH