Supergeo Technologies, a leading global provider of complete GIS software and solutions, announced that the latest iOS-powered SuperSurv 3.2 is officially released to bring powerful GIS functions for streamlining field data collection for Apple devices users.
Designed for field survey with iPad and iPhone, SuperSurv 3.2 for iOS supports offline editing, attribute query, tracklog recording and display, adding Waypoint, and Augmented Reality. The whole new mobile GIS app integrates with GIS and GPS technologies to perform Map Display, Query, Measure, etc, and support point, line and polygon data.
SuperSurv 3.2 for iOS also allows users to employ OpenStreepMap as the basemap to collect feature data including attribute data, and save the data in SHP and GEO formats. Besides, the Customized Attribute Table is offered to effectively cluster attribute data. Data like collected layer files and GPS tracklog can be exported through iTunes and utilized in various GIS programs.
Download Free Trial here: https://itunes.apple.com/us/app/supersurv/id734191604?mt=8
For more information about SuperSurv 3.2 for iOS, please visit: http://www.supergeotek.com/ProductPage_SuperSurv.aspx
Users in Poland, please contact eryk@gps.pl; users in Australia, please contact andrew@geoconnect.com.au; other inquires, please email staff@supergeotek.com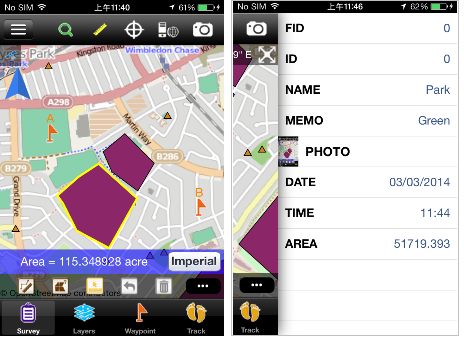 SuperSurv 3.2 for iOS is released simplifying field tasks