Xcode Cloud will help developers build apps even faster, and new App Store features enable developers to reach more users
TORONTO, ONTARIO
 Apple today unveiled 
new tools and technologies
 designed to help developers create more engaging app experiences and make it even easier to build high-quality apps. Xcode Cloud brings together the multiple tasks and tools required to build, test, and deliver apps using powerful cloud services, enabling individual developers and teams to be more productive and provide great apps to their users. With In-App Events and Custom Product Pages, the App Store now provides all-new ways for developers to promote their apps and connect with users. Swift takes a massive leap forward with concurrency support built into the language, and augmented reality (AR) technologies make it easier than ever to build immersive content in apps or on the web.
"We're thrilled to provide our developer community with powerful new tools and technologies to help create even more compelling and higher-quality apps, while engaging with their users in all new ways through the App Store," said Susan Prescott, Apple's vice president of Worldwide Developer Relations. "With the robust set of tools included in Xcode Cloud, continuing innovation in the Swift programming language, a wide range of new APIs, and even more ways to reach users — Apple's platforms have never been stronger."
Xcode Cloud
Xcode Cloud is a new continuous integration and delivery cloud service designed specifically for Apple developers. Built into Xcode 13, Xcode Cloud offers a fast and simple way for developers and teams of all sizes to build, test, and deliver high-quality apps even more efficiently. Xcode Cloud can automatically build apps in the cloud to free up developers' Macs for other tasks. Parallel testing in the cloud means developers can test on a simulated version of every current Apple device, then easily deploy a build of the app for internal testing, or deliver to external beta testers through TestFlight for instant feedback.
App Store
With more apps and games featuring events like live competitions, movie premieres, live-streamed experiences, and much more, it's now easier for users to discover these events right on the App Store — in personalized recommendations, editorial selections, search results, and on app product pages. This greatly expands the reach of developers' events — helping connect them with new users, keep their current users informed, or reconnect them with past users. It's a whole new way for developers to showcase what's happening in their apps.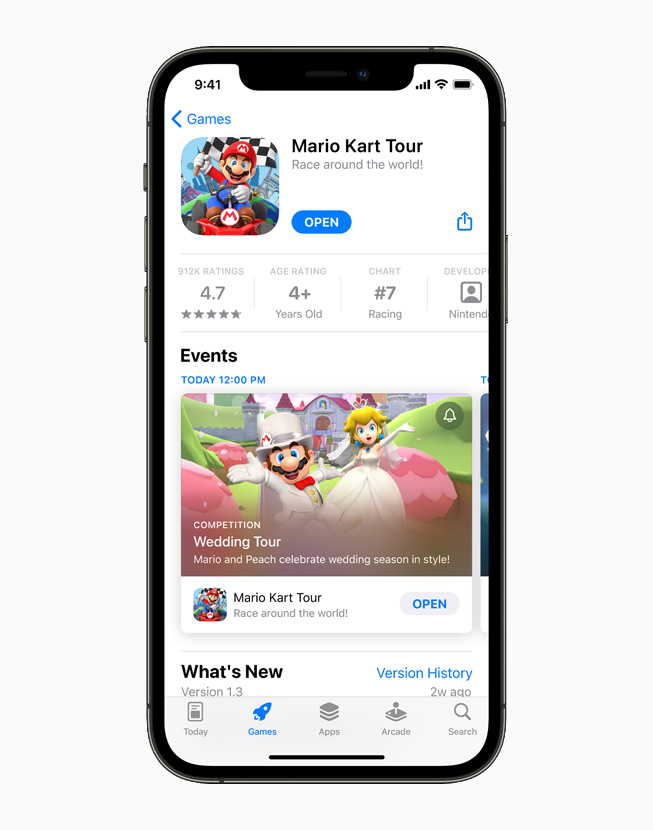 A top-requested feature among developers, Apple is introducing new product page tools that offer developers greater flexibility and new ways to connect with users right in the App Store. Custom Product Pages let developers showcase different features of their app for different users, while Product Page Optimization gives developers the ability to test different screenshots, preview videos, and even app icons. With rich, privacy-friendly analytics in App Store Connect, developers can see what their users like most and make the best decisions for their product pages.