In Q1 of 2013, SuperGeo plans to launch diverse products, including mobile GIS, server GIS, and desktop GIS, to provide more comprehensive GIS solutions.
SuperGeo launched a number of products in 2012 successfully to provide domestic and foreign users, including ordinary users and enterprise users, with effective GIS products and solutions. About desktop products, SuperGeo offered extensions including SuperGIS Desktop 3.1, SuperGIS Spatial Analyst, SuperGIS 3D Analyst and so forth. For mobile devices, SuperGeo also released SuperSurv 3.0 which is applicable on Android platform and SuperPad 3.1 which can work on Windows Mobile system. Additionally, Server products such as SuperGIS Server 3.1 and SuperGIS Network Server 3.1 were also released to provide enterprises with GIS platform which equips with strong analysis functions and capabilities to publish various GIS services.
To provide more advanced technologies and more comprehensive functions, in Q1 of 2013, SuperGeo plans to launch SuperSurv 3.1 and Mobile Cadastral GIS 3.1 to enhance the functions to meet the requirements in field survey. Besides, SuperGIS Desktop 3.1a which supports SuperGIS Toolkit and improves manipulations such as map viewing, attribute table, etc. will be released soon, too. About Server products, SuperGeo will release SuperGIS Server 3.1a Value edition and Standard edition which both will support to publish geoprocessing services to enhance the ability to publish GIS services.
To know the full product information and the newest trial software, please visit SuperGeo website: http://www.supergeotek.com/products_all_product_list.aspx. If you have any question about our products, please contact us with e-mail: staff@supergeotek.com.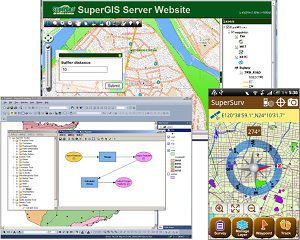 SHARE